Welcome to another Delicious Dish Tuesday, a blog hop for and about delicious food!
Being as Christmas is in ONE WEEK, I have an awesome recipe for Candied Yams.  The holidays aren't the holidays without candied yams.  My dad was the one to make them until he passed away over a year ago, and so now I make them.  This is his 'original' recipe he started with, and though it's not nearly as good as his highly improved 'secret' recipe after making it all those years, it's still pretty darn tasty!
After looking through last week's contributors, my favorite is White Chocolate Peppermint M&M Cookies, from my awesome blog designer Tree at Mother Of Pearl It Is!
Photo taken from original post
I'm into peppermint during the holidays BIG TIME, so this appeals to me instantly. Not to mention, it's a dessert… 🙂
Now it's your turn!
Please link a post that is Delicious! If you are new, read the Original Post which includes the rules for linking up. If you have any questions please email me at thefulltimemama(at)gmail(d0t)com.
Please include a link back to one/any of the host sites (through worded link or badge). The Delicious Dish Tuesday hosts include: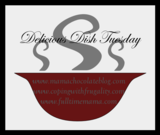 Don't forget to leave a comment after you link up your post and add the above button to your blog post as well! Thanks so much! Can't wait to see what you share!