Welcome to another Delicious Dish Tuesday, a blog hop for and about delicious food!
Alright, so I posted a recipe last week, but I'm going to save it for next week I think… SO I'm going to be lame and just share my pick from last week (though it's a GOOD ONE)!!
Last week's contributors to Delicious Dish Tuesday were slim… Okay, just one, but it was one of my blogging besties, Momma Knows Best!! I'm thrilled to feature her Baked Cream Cheese Spaghetti.
Photo taken from original post
Okay, so cream cheese in pretty much anything is amazing, right? Can't go wrong! We also love spaghetti, so it's gotta be REALLY good, right?! Can't wait to find out!
Now it's your turn!
Please link a post that is Delicious! If you are new, read the Original Post which includes the rules for linking up. If you have any questions please email me at thefulltimemama(at)gmail(d0t)com.
Please include a link back to one/any of the host sites (through worded link or badge). The Delicious Dish Tuesday hosts include: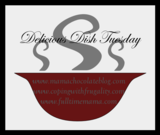 Don't forget to leave a comment after you link up your post and add the above button to your blog post as well! Thanks so much! Can't wait to see what you share!