Welcome to another Delicious Dish Tuesday, a blog hop for and about delicious food!
Another week of no recipe posting… Man I've been swamped with the holidays and this gift guide and getting you all these awesome giveaways!!  SO, I'm just going to share the feature with you this week. 🙂
After visiting last week's contributors to Delicious Dish Tuesday, my favorite recipe is Homemade Gluten Free Cheesy Scalloped Potatoes, from For Him and My Family.
Photo taken from original post
I love scalloped potatoes- especially during the holidays- and these look tasty tasty! This may be my contribution to our family Christmas this year (along with a dessert, of course)!!
Now it's your turn!
Please link a post that is Delicious! If you are new, read the Original Post which includes the rules for linking up. If you have any questions please email me at thefulltimemama(at)gmail(d0t)com.
Please include a link back to one/any of the host sites (through worded link or badge). The Delicious Dish Tuesday hosts include: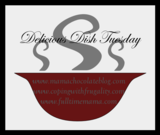 Don't forget to leave a comment after you link up your post and add the above button to your blog post as well! Thanks so much! Can't wait to see what you share!