When Amanda asked me a year ago if I'd be interested in joining her and Johanna for a recipe hop I was thrilled. I am finding I enjoy cooking more and more all the time, and I thought this would be a great way to improve my skills, grow to LOVE cooking, and find amazing new blogs to check out and recipes to try.  So, on January 17th, Amanda, Johanna and I posted the very first Delicious Dish Tuesday Recipe Link Up!
Every week I'm excited to see what amazing recipes you will share, and I want to thank those of you who have been with us since the beginning! Without you this wouldn't be possible! I've found some great recipes that my family has loved (made one just tonight actually!), and have many more bookmarked and waiting for us to try.  I've found some great recipe blogs and met some wonderful bloggers, and feel I've established a closer relationship with 2 of my blogging besties, Amanda and Johanna.
I'm going to follow Amanda this week and share with you the recipe I shared with you on the very first Delicious Dish Tuesday (also a fantastic cold weather recipe) (and with my old blog url since I can't find the original picture to edit): The BEST Potato Cheese Soup
I still love it as much now as I did then… And so do my kids. 🙂
Last week my very best blogging friend, Nancy from Arizona Mama, shared a fantastic recipe for Magic Cookie Bars.  If you're a regular around here you know how much I love sweets, and this looks to die for!  I can't WAIT to make this!!
Photo taken from original post
I hope you'll join us this week and help us celebrate 1 year!
Please include a link back to one/any of the host sites (through worded link or badge). The Delicious Dish Tuesday hosts include: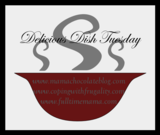 Don't forget to leave a comment after you link up your post and add the above button to your blog post as well! Thanks so much! Can't wait to see what you share!