Welcome to another Delicious Dish Tuesday, a blog hop for and about delicious food!
We had insane near record low temperatures here in Arizona last week (25 degrees at my house), which- though likely not so where you live- computes to very cold here.  Of course that was cause for warm and tasty dinners! While the cold temps have come and gone here, I understand most of the rest of the country is still having winter weather.  Here's a warm, delicious meal for you: Crock Pot Pork Stew.
Last week Heartfelt Happenings shared a recipe for Homemade Mac & Cheese that I am looking forward to making this week!
Photo taken from original post
We love mac & cheese, especially the kids (I don't think I know a kid who doesn't like it), but the boxed mac & cheese leaves something to be desired.  I have a homemade recipe I make but my husband isn't a fan.  This recipe from Heartfelt Happenings looks like a great new one to try! The powdered mustard, paprika and bay leaf sound like some great additions that just might be enough to make my husband happy! Plus, Panko bread crumbs makes anything taste 100 times better! 🙂
Now it's your turn!
Please link a post that is Delicious! If you are new, read the Original Post which includes the rules for linking up. If you have any questions please email me at thefulltimemama(at)gmail(d0t)com.
Please include a link back to one/any of the host sites (through worded link or badge). The Delicious Dish Tuesday hosts include: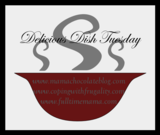 Don't forget to leave a comment after you link up your post and add the above button to your blog post as well! Thanks so much! Can't wait to see what you share!