Welcome to another Delicious Dish Tuesday, a blog hop for and about delicious food!
Due to the recent sick spell that's hit our family, (and unfortunately is still making it's rounds), as well as the cold weather, we've been wanting comfort food.  Tomato soup is my favorite soup, so I'm turning to this delicious recipe: Fire Roasted Tomato Soup.
Looks delicious right? Add that tasty grilled ham and cheese and it's a great filling meal for those of us who aren't sick… The others just can't stomach that much food, poor babies!
After looking through last week's contributors, my choice to feature this week is Healthy Homemade Chocolate Syrup, from A Restful Place!
Photo taken from original post
I'm a huge chocolate lover, and a healthier option sounds great!  I especially love that it takes just a few, normal ingredients to make. 🙂
Now it's your turn!
Please link a post that is Delicious! If you are new, read the Original Post which includes the rules for linking up. If you have any questions please email me at thefulltimemama(at)gmail(d0t)com.
Please include a link back to one/any of the host sites (through worded link or badge). The Delicious Dish Tuesday hosts include: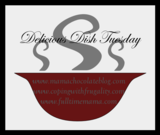 Don't forget to leave a comment after you link up your post and add the above button to your blog post as well! Thanks so much! Can't wait to see what you share!