Phew, that break was amazing. So amazing that I forgot that today is Tuesday and DDT should have been posted this morning at the latest… My bad!  Without further ado:
Welcome BACK to another Delicious Dish Tuesday, a blog hop for and about delicious food!
This week I'd love to share with you my new daily morning indulgence: Peppermint Mocha Muffins.
I make these and have them with a cup of coffee every single morning, and it's perfect!
After looking through last week's contributors, my choice to feature this week is Candy Cane Punch, from one of my great blogging friends, Trista at Andersons Angels!
Photo taken from original post
I'll be honest, I'm a bit skeptical about it, just cause the ingredients sound odd. BUT I'm told it's good, and it's a perfect holiday drink, so I'm intrigued! What better way to know for sure than to try it though, right?
Now it's your turn!
Please link a post that is Delicious! If you are new, read the Original Post which includes the rules for linking up. If you have any questions please email me at thefulltimemama(at)gmail(d0t)com.
Please include a link back to one/any of the host sites (through worded link or badge). The Delicious Dish Tuesday hosts include: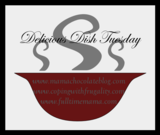 Don't forget to leave a comment after you link up your post and add the above button to your blog post as well! Thanks so much! Can't wait to see what you share!