Welcome to another Delicious Dish Tuesday, a blog hop for and about delicious food!
I was recently given a little nudge to try cooking with yeast.  Quite an experience, to say the least.  I made some tasty Polish Dogs, and though it took me more than one try, I was eventually successful!!  Looking forward to trying yeast again and making something else awesome!
Last week my friend from Mom Mart shared a totally delicious recipe for Chocolate Toffee Chip Cookies.  Off to get toffee. Must make these asap!
Photo taken from original post
Now it's your turn!
Please link a post that is Delicious! If you are new, read the Original Post which includes the rules for linking up. If you have any questions please email me at thefulltimemama(at)gmail(d0t)com.
Please include a link back to one/any of the host sites (through worded link or badge). The Delicious Dish Tuesday hosts include:
You may have noticed that
Johanna
's name is missing… She has a ton going on in life right now and will be taking a break from Delicious Dish Tuesday, but once things are settled down a bit she'll be back and joining us again!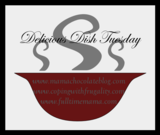 Don't forget to leave a comment after you link up your post and add the above button to your blog post as well! Thanks so much! Can't wait to see what you share!