Welcome to another Delicious Dish Tuesday, a blog hop for and about delicious food!
Somebody get me out of my funk!!  I haven't posted a recipe post in a few weeks, so I have nothing new to share. Blah.  However, since I have some new readers due to the Spring Fever Hop (Kalorik steam mop giveaway!), there are quite a few who haven't seen some of these older recipes.  So today I'll re-share a fantastic recipe (complete understatement) for the Best Banana Nut Bread!
Last week we had a new contributor, April from Mom To Minions, who shared a recipe that made me drool… Butternut Squash Cinnamon Rolls!
Photo taken from original post
I just can't wait to try and make these… Do I have to share them with the kids when I do??
Now it's your turn!
Please link a post that is Delicious! If you are new, read the Original Post which includes the rules for linking up. If you have any questions please email me at thefulltimemama(at)gmail(d0t)com.
Please include a link back to one/any of the host sites (through worded link or badge). The Delicious Dish Tuesday hosts include:
and me, Alesha of Full Time Mama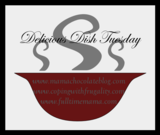 Don't forget to leave a comment after you link up your post and add the above button to your blog post as well! Thanks so much! Can't wait to see what you share!