Welcome to another Delicious Dish Tuesday, a blog hop for and about delicious food!
Yet another week I haven't posted a new recipe.  I'm cooking, just not taking photos so I can blog about it. 😛  I will get back into the kick soon, but until then, I've got lots of tasty ones to re-share! 😀  Since my husband is in the kitchen right this second making this Chicago Style Rub for the pork shoulder we'll be putting in the smoker tomorrow (and it smells amazing!), I thought I'd re-share it!
Last week The Coupon High linked up an awesome recipe for Crockpot Chinese Pork!
Photo taken from original post
It looks amazing and is totally the kind of recipe my family loves.  Plus, now that the boys are in tball/baseball and have practices during my normal dinnertime cooking hours, a crockpot meal will be perfect to cover those days!
Now it's your turn!
Please link a post that is Delicious! If you are new, read the Original Post which includes the rules for linking up. If you have any questions please email me at thefulltimemama(at)gmail(d0t)com.
Please include a link back to one/any of the host sites (through worded link or badge). The Delicious Dish Tuesday hosts include:
and me, Alesha of Full Time Mama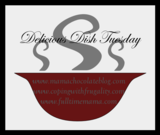 Don't forget to leave a comment after you link up your post and add the above button to your blog post as well! Thanks so much! Can't wait to see what you share!