Welcome to another Delicious Dish Tuesday, a blog hop for and about delicious food!
Since Easter is this Sunday, I thought it would be appropriate to share some great Easter recipes!  First, my favorite recipe for Tangy Honey Glaze Ham!
And of course, a recipe for Easter Bunny Cakes that Celebrating Holidays shared last week.
Photo taken from original post
Aren't they adorable? While we personally don't do the Easter Bunny here at the Full Time Mama house (we celebrate the death and resurrection of Christ), I think these bunnies would be a super fun cake to make for birthdays or any other time of year… My kids would LOVE it!
Now it's your turn!
Please link a post that is Delicious! If you are new, read the Original Post which includes the rules for linking up. If you have any questions please email me at thefulltimemama(at)gmail(d0t)com.
Please include a link back to one/any of the host sites (through worded link or badge). The Delicious Dish Tuesday hosts include:
and me, Alesha of Full Time Mama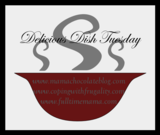 Don't forget to leave a comment after you link up your post and add the above button to your blog post as well! Thanks so much! Can't wait to see what you share!