Welcome to another week of Delicious Dish Tuesday! Is it just me, or did last week fly by WAY too fast?! Ah, the break was wonderful… Hope you've been enjoying your Spring!
Due to my Spring Break (and general all around laziness in cooking and posting) I have to share an oldie again this week.  That's okay though, it may be an old one, but oh so good! 🙂 So since I'm in a sweets mood (when am I not?!) I think I'll send you over to my post for Chocolate Cake with Peanut Butter Buttercream Frosting! Ah, my mouth is watering now!!
2 weeks ago- before our break- The Food Prepper blog shared a recipe for Vegetable Garden Minestrone Soup.  It looks amazing and I love all of the tasty veggies included in it! YUM!
Photo taken from original post
Now it's your turn!
Please link a post that is Delicious! If you are new, read the Original Post which includes the rules for linking up. If you have any questions please email me at thefulltimemama(at)gmail(d0t)com.
Please include a link back to one/any of the host sites (through worded link or badge). The Delicious Dish Tuesday hosts include:
and me, Alesha of Full Time Mama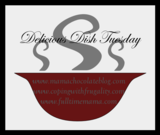 Don't forget to leave a comment after you link up your post and add the above button to your blog post as well! Thanks so much! Can't wait to see what you share!