Welcome to another week of Delicious Dish Tuesday!
Along with the amazing German Chocolate Cinnamon Rolls I shared last week, I also made equally amazing (more amazing than the cinnamon rolls if you ask everyone else in my family) Coconut Toffee Cookie Bars.
Last week Linsey from Lillie Punkin' shared a recipe for Greek Yogurt Cheesecake. I LOVE cheesecake. LOVE.  This looks SO good too!!
Photo taken from original post
Now it's your turn!
Please link a post that is Delicious! If you are new, read the Original Post which includes the rules for linking up. If you have any questions please email me at thefulltimemama(at)gmail(d0t)com.
Please include a link back to one/any of the host sites (through worded link or badge). The Delicious Dish Tuesday hosts include:
and me, Alesha of Full Time Mama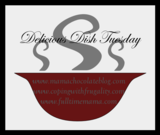 Don't forget to leave a comment after you link up your post and add the above button to your blog post as well! Thanks so much! Can't wait to see what you share!