Welcome to another week of Delicious Dish Tuesday! Yes, I realize it's Wednesday…  These past few days have flown and with our "hurry up and finish school for the year" rush I've been a bit busy (we homeschool, for those who don't know).  ANYWHO…  Thanks for dropping by!
This week I want to share with you the amazing German Chocolate Cinnamon Rolls I made last week. Believe it or not, we still have a few left, but only because I've been trying very hard not to eat them all by myself!
Last week Kelley from Mommy Fever shared easy directions on Oven Roasted Sausage.  I'm all about easy, and oven roasting gives me time to finish the rest of the meal while it cooks. Yay!
Photo taken from original post
Now it's your turn!
Please link a post that is Delicious! If you are new, read the Original Post which includes the rules for linking up. If you have any questions please email me at thefulltimemama(at)gmail(d0t)com.
Please include a link back to one/any of the host sites (through worded link or badge). The Delicious Dish Tuesday hosts include:
and me, Alesha of Full Time Mama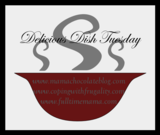 Don't forget to leave a comment after you link up your post and add the above button to your blog post as well! Thanks so much! Can't wait to see what you share!