Well here we are again, back to Tuesday and another week of DDT! Glad you're here!
If you haven't seen it already, I'd love for you to check out my recipe for Coconut Crusted Chicken. I think you'll love it!
Laura from Mom Mart is a regular contributor who always shares fantastic recipes. She didn't disappoint last week either, with her fabulous recipe for a Cheesy Turkey Spinach Omelet!
Now it's your turn!
Please link a post that is Delicious! If you are new, read the Original Post which includes the rules for linking up. If you have any questions please email me at thefulltimemama(at)gmail(d0t)com.
Please include a link back to one/any of the host sites (through worded link or badge). The Delicious Dish Tuesday hosts include:
and me, Alesha of Full Time Mama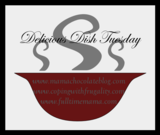 Don't forget to leave a comment after you link up your post and add the above button to your blog post as well! Thanks so much! Can't wait to see what you share!