Tuesday already?! Wow does time fly.  I have really been enjoying the summertime with my kids, so much so that the blog has continued to be pretty quiet.  I did make some yummy recipes I plan on sharing soon though, so stay tuned! In the meantime, if you haven't seen my Company Potatoes recipe, check it out. Super tasty, super easy, perfect side for any meal! 🙂
Last week Kelley from Mommy Fever shared a recipe for Cheesy Baked Pork Chops that looks fantastic (it's healthy too). It even uses greek yogurt- yum!!
Photo taken from original post
Now it's your turn!
Please link a post that is Delicious! If you are new, read the Original Post which includes the rules for linking up. If you have any questions please email me at thefulltimemama(at)gmail(d0t)com.
Please include a link back to one/any of the host sites (through worded link or badge). The Delicious Dish Tuesday hosts include:
and me, Alesha of Full Time Mama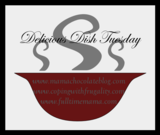 Don't forget to leave a comment after you link up your post and add the above button to your blog post as well! Thanks so much! Can't wait to see what you share!