Guess what?! I've been cooking new recipes again, and *trying* to be better about sharing them on the blog!  Go me! 😉  This week I want to share with you my recently posted recipe for Fiery Chicken and Potato Fingers (all grilled, baby)!!
And last week we had a new blog link up- yay!! Always fun seeing a new face and finding even more awesome recipes to try!  Olivia from This West Coast Mommy shared a recipe for Apple Chips that looks super yummy, healthy, and easy!
photo taken from original post
Now it's your turn!
Please link a post that is Delicious! If you are new, read the Original Post which includes the rules for linking up. If you have any questions please email me at thefulltimemama(at)gmail(d0t)com.
Please include a link back to one/any of the host sites (through worded link or badge). The Delicious Dish Tuesday hosts include:
and me, Alesha of Full Time Mama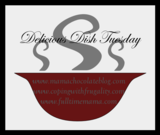 Don't forget to leave a comment after you link up your post and add the above button to your blog post as well! Thanks so much! Can't wait to see what you share!