Welcome back to Delicious Dish Tuesday!  Check the linky below for some new recipe ideas, and then be sure and share one of your recipes with us too!
I've been in a creative cooking mood lately and made a doozy of a recipe last week (which I'll be blogging this week).  Now, if I can kick this sore throat nonsense I'll have the energy to try the other recipe ideas bouncing around in my head and find out if they're doozies too. 🙂  In the meantime, you'll love this Italian-Parmesan Crusted Pork Chops recipe I made! SO good and SO easy!
Last week Carole from Carole's Chatter shared a tasty breakfast recipe with us for Buttermilk Pancakes with Bacon.  I tend to be lazy and just use the pancake mix, but making them homemade would be cheaper (and probably taste better too)!  Glad to have a recommended recipe now! Thanks Carole (and we're happy to have you sharing with us again)! 🙂
Photo taken from original post
Now it's your turn!
Please link a post that is Delicious! If you are new, read the Original Post which includes the rules for linking up. If you have any questions please email me at thefulltimemama(at)gmail(d0t)com.
Please include a link back to one/any of the host sites (through worded link or badge). The Delicious Dish Tuesday hosts include:
and me, Alesha of Full Time Mama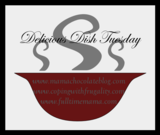 Don't forget to leave a comment after you link up your post and add the above button to your blog post as well! Thanks so much! Can't wait to see what you share!