I'm on vacation this week visiting family, but I'm still here to post Delicious Dish Tuesday… I just love seeing yummy recipes every week!
This week I've been in a salad mood, so I want to share my recipe for Creamy Cucumber Salad. This is so refreshing in the summertime, but tasty all year round!
On this vacation I've been eating a lot of salads for lunch… It seems a healthy option when we're eating out, and they've been SO good.  I'm loving all of the salads with the fresh fruit in them, so when I saw that This West Coast Mommy shared a recipe last week for Rosemary & Garlic Steak Salad with Seasonal Fruit, I knew I HAD to feature it. YUM!!!  I can't wait to try this one (and know that I'm able to make these tasty salads at home)!
Now it's your turn!
Please link a post that is Delicious! If you are new, read the Original Post which includes the rules for linking up. If you have any questions please email me at thefulltimemama(at)gmail(d0t)com.
Please include a link back to one/any of the host sites (through worded link or badge). The Delicious Dish Tuesday hosts include:
and me, Alesha of Full Time Mama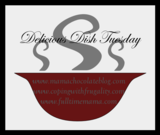 Don't forget to leave a comment after you link up your post and add the above button to your blog post as well! Thanks so much! Can't wait to see what you share!