Welcome to another Delicious Dish Tuesday! Check out the awesome recipes shared on the linky, and add one of yours while you're here!
Also, if you haven't seen yet, check out my "Let's Get Cooking" announcement post (an awesome cooking themed event, with some great giveaways too)!
So last week we were on vacation and I didn't cook even once. It was wonderful! lol  I'm having a hard time getting back into the swing of things, but I've been blessed to have a wonderful husband who has made the main dish for dinner the last 2 nights (he's the grilling king, after all).  Anyway, I have been in a sweets mood, but since we can't have cookies for dinner I'll have to make something that is sweet but can pass for dinner… Like Stuffed French Toast!  Seriously, this is like having dessert for dinner. SO good!
Last week my friend Nancy from Arizona Mama shared an easy (yay!) Crockpot Shredded Beef recipe, and she made some awesome burritos! I love easy, and crockpot is about as easy as it gets. Thanks for sharing Nancy!!
Now it's your turn!
Please link a post that is Delicious! If you are new, read the Original Post which includes the rules for linking up. If you have any questions please email me at thefulltimemama(at)gmail(d0t)com.
Please include a link back to one/any of the host sites (through worded link or badge). The Delicious Dish Tuesday hosts include:
and me, Alesha of Full Time Mama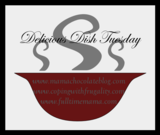 Don't forget to leave a comment after you link up your post and add the above button to your blog post as well! Thanks so much! Can't wait to see what you share!