Welcome back to Delicious Dish Tuesday, a hop about great food!  We hope you'll find some great recipes and the awesome blogs they're shared on, and we'd love for you to share your awesome recipe (and blog) with us on the linky below so others can find you too! 🙂
In honor of Labor Day today, Amanda and I decided a BBQ themed DDT would be fun!  Today we didn't 'technically' BBQ, but we did have BBQ style foods.  For instance; for lunch we went to watch our MLB team (the Arizona Diamondbacks) play, and while there we had hot dogs.  Then for dinner we had pulled pork sandwiches, pasta salad and baked beans. Delicious!  Unfortunately, the only thing we made ourselves (well, kinda) was the pulled pork- we smoked pork shoulder on our smoker on Saturday. The rest came from a box (pasta salad), bottle (BBQ sauce), or can (baked beans).  So tonight I looked on Pinterest and found recipes to make the other stuff. Yep, I'm thinking the next time we have this meal, I'll put some effort into it and make these:
Rootbeer BBQ Sauce (for the smoked pulled pork)
BBQ Chicken Southwest Pasta Salad (less the chicken for now)
Smoky BBQ Baked Beans
YUM, right?!
Now it's your turn!
Please link a post that is Delicious! If you are new, read the Original Post which includes the rules for linking up. If you have any questions please email me at thefulltimemama(at)gmail(d0t)com.
Please include a link back to one/any of the host sites (through worded link or badge). The Delicious Dish Tuesday hosts include:
and me, Alesha of Full Time Mama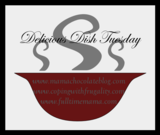 Don't forget to leave a comment after you link up your post and add the above button to your blog post as well! Thanks so much! Can't wait to see what you share!