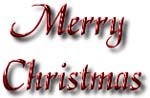 I've been so busy with the Holiday Gift Guide I realized I failed to wish everyone a Happy Thanksgiving! Of course I can't let Christmas pass without giving you all my best wishes, and now that the gift guide is officially completed, my brain may be back in order as well. Haha.
So, may the blessing of Christmas be yours today, and may you never forget the TRUE meaning of Christmas!
Blessings to you each!